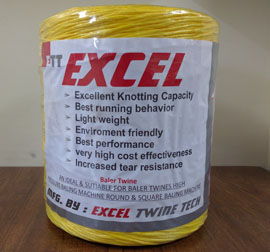 Baler Twine
Baler twine is made out of 100% Polypropylene material. Baler twine is used to bind various bales like 'small square, large square & large round bales'. Baler twine is produced according to the properties of baler machines. Increased elongation percentage enables bales to get pressed and not scatter during storage.
Features:
Higher Breaking strength.
High runnage.
Knots easily & tightly.
Soft & Smooth.
Durable for hard weather conditions like rain, sun & etc (UV stabilized material).
Light in weight.
Highly consistence performance.
Area of use:
Hay bailing & Straw bailing.
Crop packaging.
Sugarcane scraps bailing.
Scrap paper bailing.
Corrugated Box bundling.
Maintaining the global standard in quality management. Learn More.